Product
InfReC R550 Series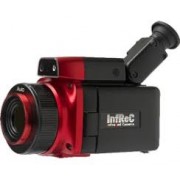 "InfReC R550 series"
a high resolution and highly functional infrared thermography equipment
which realizes the high speed sampling (120Hz)
1.2 M pixels Infrared Thermal Imaging Camera
Super Resolution Mode :1280×960 pixel
Spatial Resolution :equivalent to 0.58 mrad
120Hz high speed sampling enables measurement of instantaneous temperature change (R550Pro)
Windowing mode enable to 120Hz high speed sampling.
You will be able to do sputter analysis and analysis of thermal impact to the neighborhood of the interested spot in laser machining or resistance welding.
120Hz : 640×120 Windowing
60Hz : 640×240 Windowing
30Hz : 640×480 Full
High Sensitivity and High MeasurementAccuracy
Sensitivity (NETD) :0.025℃
Temperature accuracy :±1℃
Spatial Resolution 58μm with Standard Lens
Minimum Spatial Resolution :equivalent to 58μm at 10cm distance
A Wide Viewing Angle Lens increases Working Efficiency
Field of view(F.O.V.) : 32°(H)×24°(V)
5M pixels visual camera
Thermal and Visual"Split-screen Images"and"Fusion Images."
Selectable 2models for your application
R550 Pro :Measuring range: -40 to +2000℃ Suitable for use in R&D, for making high temperature measurements, and for measuring sequential data.
R550 :Measuring range: -40 to +650℃ Excellent choice for inspection of electrical facilities and remotely located pipes.
Download File