Product
USM GO+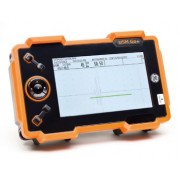 USM GO + Portable NDT Ultrasonic Flaw Detector
เครื่องตรวจหารอยร้าวและสามารถ Upgrade เพิ่มฟังก์ชั่นวัดความหนา (DMS GO+)
Specifications
Combine powerful ultrasound inspection capabilities with ultra-portability
Achieve reliable results in a variety of inspection situations throughout the industrial and process spectrum, from aerospace to power generation and from the automotive sector to the oil and gas industry.
When circumstances call for a portable and lightweight handheld instrument, there is no reason to compromise quality for convenience. Designed with a rugged rubber casing to stand up to the harshest field conditions and small enough to fit into the palm of the hand or a coveralls pocket, this is truly the ultrasonic flaw detector designed to stand up to any inspection challenge.
→ Weld inspection
→ Inspection of forging and castings
→ Inspection of rails
→ Inspection of composites
→ For more demanding applications such as narrow band filters, low noise digital amplifier, and square wave pulsers
When flaw detection equipment can be operated with one hand, inspectors are free to make changes to the probe or their environment with the other. Inspections don't get easier than that.
Download File