Product
Rigid Borescope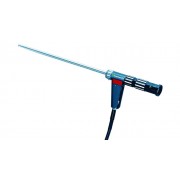 GE Sensing & Inspection Technologies' industrial Rigid
Borescopes set the standard for image quality and durability
in Remote Visual Inspection equipment. The range includes
Rotascope Rigid Borescopes with rotatable insertion tubes,
Swing-prism Rigid Borescopes with variable directions-of-view
and Mini-rigid Borescopes, all with fiber-optic illumination.
Additional Rigid Borescopes, with conventional lamp
illumination at the tips, include the low-cost Econoscope, in
9.0 mm (0.35 in.) and 6.5 mm (0.25 in.) diameters, while the
TEW Extendible Rigid Borescopes come in 9.0 mm (0.35 in.),
14.0 mm (0.55 in.), 18.0 mm (0.70 in.) and 24.0 mm (0.95 in.)
diameters.
Download File