Product
iPEK SUPERVISION Lateral Launch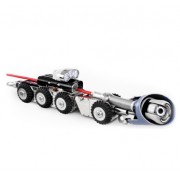 SUPERVISION® LATERAL LAUNCH SYSTEM – off the beaten track!
The fully ­SUPERVISION® compatible LATERAL LAUNCH SYSTEM with the satellite crawler SVR SAT140 and the cable reel SVA SAT150 is an ideal extension for the ­SUPERVISION® pipeline inspection system.
iPEK engineers have combined the strong feed force of the crawlers with the best features of a push camera in this system. The powerful feed unit, the special push rod and the highly flexible PTP70 camera offer everything, an advanced lateral launch system needs.
Download File