Product
iPEK QUICK VIEW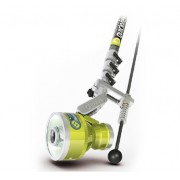 QuickView® - that's quick, affordable and safe
Inspect pipelines, manholes and tanks from street level with the patented QuickView® zoom inspection camera. Municipalities use it to identify and prioritize maintenance issues. DOTs use it to assess culvert and storm pipe condition with minimal traffi c exposure. Contractors use it to survey pipe before bidding services, and to document completed work. With newly increased optical zoom, advanced software and HID lamps, QuickView® sees 100–350' in 6–60" diameter lines.
Why QuickView®?
Performance - Camera zooms and illuminates farther, measures distance, and captures crisper sidewall detail.
Productivity - Joystick controls and comfortable utility vest allow rapid, singleuser operation.
Ergonomics - Lightweight design, one-handed telescoping and sprung height adjustment streamline use.
Support - iPEK offers the largest network of support centers across Europe.
Download File