Product
Rhythm Ultrasonic (UT)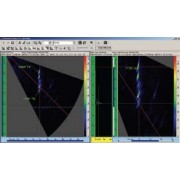 Rhythm UT delivers consistency, productivity and improves the workflow surrounding the capture and review of phased array images.
Easy to Use
Rhythm UT offers the same advanced viewing and measurement tools as the Phasor XS so you can work offline without sacrificing capabilities. Rhythm UT offers additional tools to enhance reporting and analysis to assist in better decision-making.
Rhythm UT uses the same user-friendly interface found in other Rhythm packages so you can get up and running quickly as possible. Less learning curve means more productivity.
Reporting
Rhythm UT eliminates the need to manually consolidate different files with stored images from the Phasor XS into a study in order to generate a report. You can easily import CAD drawings or photographic images to assist in inspection site identification in the generated report.
Save time in the reporting process with automatic generation of reports. Images containing analysis information, sector scans and other views can be incorporated so that reports can be used for historical review purposes.
Download File