Product
ISOVOLT mobil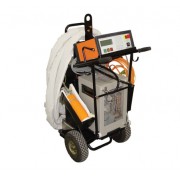 The ISOVOLT mobil is designed for operations where access to the inspection point is difficult.
It is ideal for site use in the energy, mineral and petro-chemical industries where pipelines and container tanks require X-ray inspection.
The ISOVOLT mobil is equipped with a small X-ray tube and high voltage cable up to 20 m (64 ft) in length to allow positioning in hard to reach places not accessible by other types of X-ray equipment.
Download File