Product
EXPOSURE CABINE for Eresco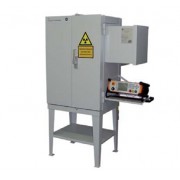 The exposure cabinet is designed for radiographic inspection of small components, as well as welding samples as made during welders qualification tests. The cabinet can also be used for irradiation of biological or similar samples.
The cabinet is designed and equipped as a fully protected unit in compliances with the German X-ray Regulations RöV in their up-to-date version.
At the front side the two hinged doors are secured with safety door switches. The radiating unit ERESCO 42 MF4 (air-cooled) or ERESCO 42 MF4-W (watercooled) is mounted horizontally inside the cabinet. The beam is directed vertically down.
When using the air-cooled unit, the duty cycle is limited due to the limited volume of the cabinet.
Normal exposure operation (at 5 min exposure / 5 min pause) is possible, provided the doors are kept open between the exposures.
For long term irradiation the use of the water-cooled unit is recommended.
Download File