Product
Eresco MF4 Overview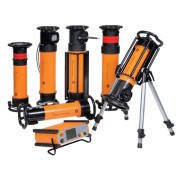 The ERESCO MF4 portable X-ray units are designed for reliability in some of the world's toughest conditions. With the ERESCO MF4 line, mobile X-ray inspection becomes lighter in the true sense of the word. By using the latest display technology, the new user interface to control and monitor the X-ray setup, has been fully utilized and features graphic visualization and menu driven operation to optimize productivity.
The robust construction of the control and the tube heads make them suitable for hostile environments. Due to its low power consumption, not only is energy cost reduced, but operation with portable power supplies are made easier. Special power electronics allow for an alternative operation in the field as well as integration in crawlers. Even with reduced weight, the new tube heads comply with the strict requirements of the European X-ray regulations.
Using modern compact electronics to minimize weight and provide a high power output with extremely low ripple, together with a sturdy metal ceramic X-ray tube, the ERESCO MF4 generates a high X-ray dose which allows the shortest exposure time, resulting in higher productivity.
Download File