Product
Eresco 52MF4 X-Ray Unit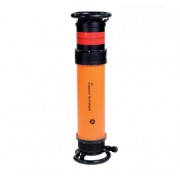 The ERESCO 52 MF4-CL is a 300 kV constant potential portable X-ray tube head using state of the art switching technology with high radiation output allowing shortest exposure times thereby increasing productivity.
GE Sensing & Inspection Technologies uses the number 52 to identify the superior penetration performance of its portable X-ray unit line. This means the ERESCO 52 MF4-CL is capable of penetrating 52 mm (2.01") Fe with a 2.0 density after a tenminute exposure using AGFA STRUCTURIX D7 film @ 700 mm (27.5") FFD.
The X-ray tube head consists of a sturdy metal-ceramic X-ray tube and high voltage generator integrated into a rugged compact housing. The air-cooled 300 KV/ 600 W end-grounded X-ray tube is thermally protected for extended life.
The high voltage generator generates high-stability constant potential voltage at higher efficiency than conventional line frequency equipment.
The performance of the X-ray tube and the high voltage generator is continuously monitored for protection and operational safety. An on-board real time clock facilitates fully automatic warmup routines for optimized and timesaving tube conditioning. The flexible connecting cable is heavy-duty and light weight.
Download File