Product
e●Brio2 OPTICAL READERS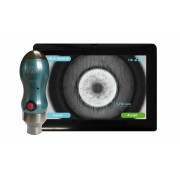 The Brinell test is of basic importance in many areas of quality control, but often inaccurate
readings and long test cycles have a negative impact on productivity.
Ernst is pleased to introduce the new model e●brio², equipped with a new lighting system
and a new algorithm of indentation's edge detection, able to read reliably and accurately
on every material and surface, even on rough ones.
These features and its single probe suitable for all the indentation sizes
make it a unique system in its category.
The new extremely powerful image processing algorithm is the result of twenty years of experience in the field studied to:
- Remarkably improve the capabilities to detect the indentation edge
- Remarkably improve the accuracy of the measure
- Ensure accurate and reliable measurements on every material and test surface, without any change of parameters or lightning.
The new illumination system with red light LED matrix and new optical path allows to:
- Improve the lighting uniformity of the surface
- Improve the contrast between internal and external indentation surface
- Reduce distortions of the resulting image
Download File