Product
Eagle 3000 AUTOMATIC HARDNESS TESTERS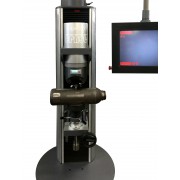 This Brinell hardness tester is particularly suited for testing bulky pieces (up to 1200mm height).
Easy to use, and suitable for laboratory tests. In accordance with the ISO EN 6506, ASMT E10 standards.
Optical indentation reading. Turret with automatic selection of indenters and lenses according to the test method specified.
Software based on user-friendly Windows platform, available in different languages.
Download File