Product
M-2040 MOBILE POWER PACK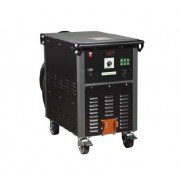 Magnaflux® understands some parts cannot be moved so the magnetizing station needs to be brought to the part. The M Series offers a solution by providing an adaptable mobile unit. These units feature AC or Half Wave DC output. Output rating is based on Load Specified.
BENEFITS
Ability to easily move the unit to the part for inspection
Convenient hook on back side of unit to wrap cables after use, saves space as well as keeps cables lasting longer without being dragged along the floor when moved.
EXTERIOR
Digital Meter Display
Two Bus Bars for Connection
Push button Switch for AC output
Push button Switch for HWDC output
Push button Switch for Mag

Momentary–magnetizes as long as button is pushed

Push button Switch for Demag

One touch auto cycle
Switches to decaying AC automatically

Push button Switch for power on/off
Push button Switch for pulse

½ sec on, 3 sec off for 30 sec

Infinitely variable current control
Two (2) fixed heavy-duty casters
Two (2) swivel casters with locks
Lift brackets for extra unit mobility
115 Volt Convenience Outlet (10 amp)
INTERIOR
Thermal Overload for circuitry protection
PLC Circuitry for extra reliability
Secondary Current Control
Flow through cooling for heat dissipation
Solid State Switching (AC to HWDC)
Specifications
Output: 4000 amps AC and HWDC magnetizing current
Output rated with 30' total 4/0 cable
Dimensions: 46" L x 23" W x 39" H
Weight: 780 lbs.
Available Voltages: 230, 380, 415, 460, 575, 50 or 60 hertz, single phase power
7% Duty Cycle (maximum output with 1/2 minute ON time)
Download File